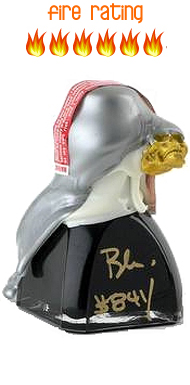 Blair's 5am Reserve Hot Sauce is part of the line of Blair's A.M Reserve products.
Blair's 5am Reserve is filled with an incredible 5.5 Million to 6 Million Scoville units (SHU) of capsaicin oil and sealed with white and platinum wax resin from Italy. This is a highly sought after hot sauce from Blair's Limited Reserves for any Die Hard Chili head! Only 999 bottles were produced.
PRODUCT DISCLAIMER: Purchaser of Reserve products hereby acknowledges the intense heat factor of this product and the element of danger if misused. This product is over 100 times hotter than a jalapeno pepper and is a complex blend of fresh peppers and extracts. This product is not a sauce but a food additive and should be used as such only. Furthermore, it should be clearly understood that this is used strictly at the purchaser's risk.
Scoville Heat Units (SHU) : 5,500,000 – 6,000,000
Hot Sauce Brand: Blair's Sauces and Snacks – Home of the Death Sauces since 1989
Origin: United States
Hot Sauce Ingredients: Blair's 5AM Reserve Extract.
Check out more products from: Blair's Hot Sauces and Snacks