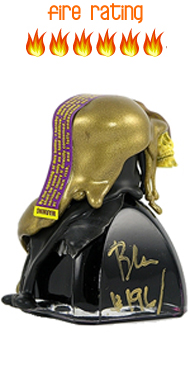 Blair's 4am Reserve Hot Sauce is part of the line of Blair's A.M Reserve products.
Blair's 4am Reserve was released in  2000 and is filled with an incredible 4 Million to 5 Million Scoville units (SHU) Due it's unique Black and Gold Wax seal from Italy, this makes it one of the most sought after of the Blair's Limited Reserves for any Die Hard Chili head! Only 999 bottles were produced.
PRODUCT DISCLAIMER: Purchaser of Reserve products hereby acknowledges the intense heat factor of this product and the element of danger if misused. This product is over 100 times hotter than a jalapeno pepper and is a complex blend of fresh peppers and extracts. This product is not a sauce but a food additive and should be used as such only. Furthermore, it should be clearly understood that this is used strictly at the purchaser's risk.
Scoville Heat Units(SHU): 4,000,000 – 5,000,000
Hot Sauce Brand: Blair's Sauces and Snacks – Home of the Death Sauces since 1989
Origin: United States
Hot Sauce Ingredients: Blair's 4AM Reserve Extract.
Check out more products from: Blair's Hot Sauces and Snacks