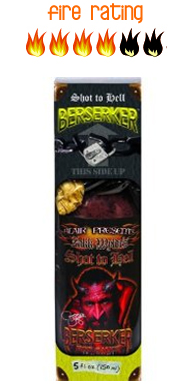 Zakk Wylde's Shot to Hell Hot Sauce is a part of the line of Blair's Zakk Wylde Collection of hot sauces.
Zakk Wylde, is an American musician, songwriter, and occasional actor who is best known as the former guitarist for Ozzy Osbourne and founder of the heavy metal band Black Label Society.
Shot to Hell Hot Sauce is the hottest sauce in Zakk's line. This one definitely separates the men from the boys. Be warned, it contains ingredients 600 times hotter than a jalapeño chili pepper. Use sparingly. Not recommended for use without dilution.
Scoville Heat Units (SHU): unknown
Hot Sauce Brand: Blair's Sauces and Snacks – Home of the Death Sauces since 1989
Origin: United States
Hot Sauce Ingredients: Red Habaneros, Vinegar, Cayenne Chilies, Chipotle, Fresh Garlic, Key Lime Juice, Cilantro, Fresh Herbs & Spices.
Check out more products from: Blair's Hot Sauces and Snacks