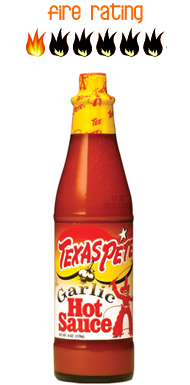 Texas Pete Garlic Hot Sauce is made with the same delicious blend of aged peppers as Texas Pete® Original Hot Sauce but with the addition of a subtle garlic flavor. The result is a great  mild hot sauce that goes great with pizza, spaghetti, tacos, wings-anything that you would eat with hot sauce that would also benefit from a subtle garlic flavor.
Scoville Heat Units (SHU's) : 749
Hot Sauce Brand: TW Garner Food Company, Texas Pete® Hot Sauces
Origin: Winston-Salem, North Carolina, United States
Hot Sauce Ingredients: Peppers, Vinegar, Salt, Xanthan Gum, Garlic Powder, and Benzoate of Soda (to preserve freshness and flavor).
Check out more products from TW Garner Food Company, Texas Pete® Hot Sauces