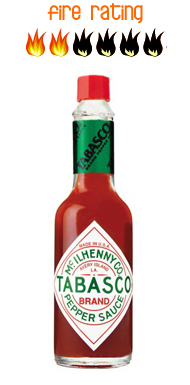 Original TABASCO hot sauce is over 140 years old and has stood the test of time as one of the most recognized hot sauces in the world. Weighing in between 2500 SHU's. This is probably the world's most famous and favorite hot sauce and is available practically anywhere! It's taste is one of pepper and vinegar and some people with a lovely punch.
TABASCO hot sauce is hot, but not crazy hot. Definitely a necessity for every kitchen and hot sauce lover.
Scoville Heat Units: 2500 (SHU's)
Hot Sauce Brand: TABASCO®  Brand – McIlhenny Company – since 1868
Origin: The Avery Islands, Louisiana, United States
Hot Sauce Ingredients: Made with just 3 simple ingredients – fully aged red peppers, Avery Island salt and high quality distilled vinegar.