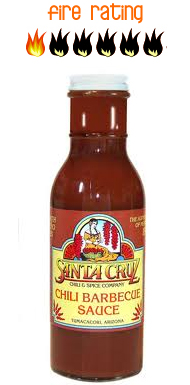 Santa Cruz Chili Barbeque hot sauce is 'A favorite of all their customers'. This sauce is an excellent all-purpose barbeque sauce ideal for both marinating and used as a dip.
Santa Cruz Chili & Spice Company is both a grower, manufacturer and retailer of fine chili products. They grow their own chilis which goes into making all of their delicious sauces, pastes and spices.
Scoville Heat Units (SHU): unknown
Hot Sauce Brand: Santa Cruz Chili and Spice Company
Origin: Tumacacori, AZ, USA
Hot Sauce Ingredients: Tomato Ketchup, Tomato Sauce, Jalapeno Chilies, Water, Vinegar, Vegetable-Oil, Garlic, Onion, Carrots, Spices, Methocel, Citric Acid, 1/10 of 1% Benzoate of Soda added to preserve freshness.
Read our Naga Nat's Review of Santa Cruz Chili & Spice Co.'s Chili Barbeque Sauce