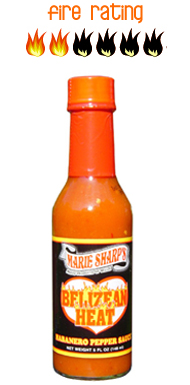 Marie Sharp's Belizean Heat Habanero Pepper Sauce is a hot Cajun / Creole style hot sauce that combines a unique carrot and tomato based blend which achieves the perfect balance between flavor and heat.
Warning Heat Level XXXX Must be strong to handle this sauce Keep out of reach of children. Avoid contact with the eyes or skin. Got water? Do not play tricks on the weak or elderly with this sauce. You say you like it hot? Well here's the challenge to prove it… or not. Specially blended for devoted heat seekers with great taste. Great for cooking, flavor soups, sauces, and stir fries or add boiled water for rice, pasta, or boiled seafood.
Available in 5 oz and 10 oz bottles.
Scoville Heat Units (SHU): unknown
Hot Sauce Brand: Marie Sharp's Fine food Ltd
Origin: Belize
Hot Sauce Ingredients: Habanero Pepper Mash, Capsicum oil, fresh carrots, white vinegar, key lime juice, salt, tomato, N'awlins cajun and creole spices, onions and garlic
Check out more products from: Marie Sharp's Fine Foods Ltd