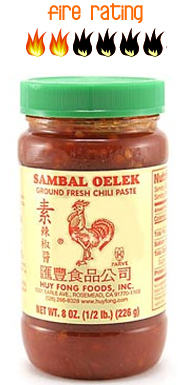 Sambal Oelek Chili Paste, is made up of ground fresh chilies, salt and vinegar. The overal taste is a good salty heat that can be quite addictive!
This chili paste is used in many asian dishes to spice things up. Something you can try as an alternative. Add a teaspoon or 2 of roasted dried shrimp paste, with sugar and lime juice to Sambal Oelek to make Sambal Belacan – a classic Malaysian condiment.
Huy Fong Foods Sambal Oelek Chili Paste is available in 8 oz., 18 oz., and 8.50 lbs. sizes.
Scoville Heat Units (SHU): unknown
Hot Sauce Brand: Huy Fong Foods, Inc.
Origin: Vietnam
Hot Sauce Ingredients: Red jalapeno chili peppers, Salt, Distilled Vinegar, Potassium Sorbate, Sodium Bisulfite, and Xanthan Gum
Check out more products from: Huy Fong Foods, Inc.
Read our Naga Nat's Review of Huy Fong Foods Sambal Oelek Chili Paste