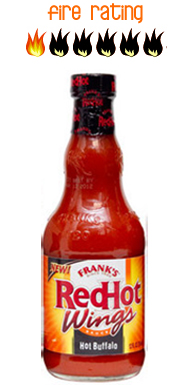 We all know Grandma Ethel puts the shit on everything, and who knew Ethel was such a wing lover? Frank's RedHot Wings Hot Buffalo Sauce is a hotter version of Frank's RedHot Wings Buffalo Hot Sauce especially for wing aficionados  who likes their buffalo sauce extra hot!
You can use Frank's RedHot Wings Hot Buffalo Sauce in a variety of buffalo wing recipes. It also  makes a great dipping sauce, or simply just splashed straight onto your plate
Scoville Heat Units (SHU's) : unknown 
Hot Sauce Brand: Frank's Hot Sauces, Durkee Famous Foods
Origin: United States
Hot Sauce Ingredients: Distilled Vinegar, Aged Cayenne Red Peppers, Salt, Water, Canola Oil, Paprika, Xanthan Gum, Sodium Benzoate (as a preservative), Natural Butter Type Flavor And Garlic Powder.
Check out more products from: Frank's Hot Sauces, Durkee Famous Foods