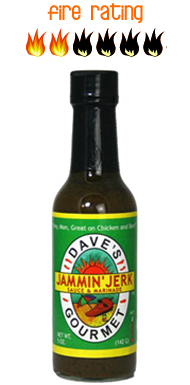 'Hey, Mon, Great on Chicken and Beef" is the slogan on the bottle  Dave's Gourmet Jammin' Jerk Hot Sauce.
Jerk is generally seen as a rub or paste in Jamaica, but Dave, aka The Spice Master has turned this delicous flavor into a even more delicious hot sauce called, Jammin' Jerk Hot Sauce.
Dave himself recommends you use this hot sauce on goat, pork and chicken!
Scoville Heat Units (SHU): unknown
Hot Sauce Brand: Dave's Gourmet Inc.
Origin: United States
Hot Sauce Ingredients: Water, scallions, red habaneros, spices, lime juice, soy sauce, vegetable oil, sugar, allspice, garlic, ginger, cane vinegar, salt
Check out more products from: Dave's Gourmet Inc.