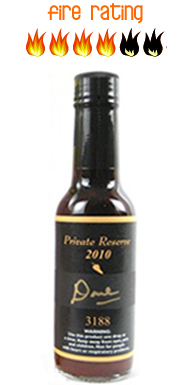 Dave's Gourmet Insanity Jolokia (Ghost Pepper) Private Reserve 2010 is made with the Hottest Jolokia Pepper Extracts and is so far the hottest of all Private reserves Released.
Dave's Gourmet Insanity Sauce Private Reserve, 2010 Limited Edition is hand signed by Dave, numbered, vintage dated and laid to rest in a wooden coffin wrapped in caution tape. These collector's items are in such demand that some early year bottles have sold for over $1000.
WARNING: Use this product one-half drop at a time. Keep away from eyes. Not for use by minors or pets. Not for people with heart or respiratory problems.
Scoville Heat Units (SHU): 93,000
Hot Sauce Brand: Dave's Gourmet Inc.
Origin: United States
Hot Sauce Ingredients: Red wine vinegar, chili extract, Jolokia "Ghost Peppers", lime juice, onion puree, Jalapeno puree, garlic, sugar & spices.
Check out more products from: Dave's Gourmet Inc.