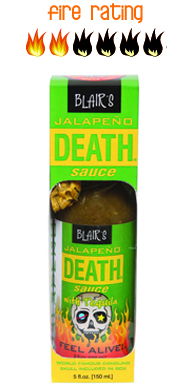 Blair's Jalapeno Death Sauce with Tequila is a part of the line of Blair's Death products.
Made with fresh Jalapenos chillies combined with fresh ingredients including tomatillos, garlic, key lime juice and shallots gives this sauce an amazing flavor. To really take your taste buds a treat, Blair's have added Blue Agave Tequila which gives their Jalapeno Death Sauce a "South of the Border" punch.
Blair's Death Sauces contains absolutely no preservatives or artificial ingredients.
Scoville Heat Units (SHU) : unknown
Hot Sauce Brand: Blair's Sauces and Snacks – Home of the Death Sauces since 1989
Origin: United States
Hot Sauce Ingredients: Fresh Jalapeno Chilies, Vinegar, Tomatillos, Fresh Garlic, Key Lime Juice, Shallots, Olive Oil, Sea Salt, Cilantro, Cane Sugar, Onions, Tequila, Spices, Xanthan Gum.
Check out more products from: Blair's Hot Sauces and Snacks