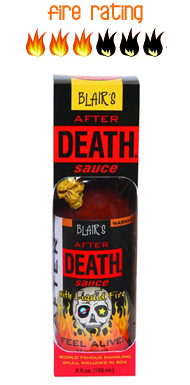 Blair's After Death Hot Sauce is a part of the line of Blair's Death products.
A serious hot sauce  not to be taken to lightly! The creator of Blair's invented this hot sauce whilst bartending in the early 90's when he wanted to get the patrons out at closing time. Story has it, it worked and so 'After Death' was born.
Blair's Death Sauces contains absolutely no preservatives or artificial ingredients.
Scoville Heat Units (SHU): 49,250
Hot Sauce Brand: Blair's Sauces and Snacks – Home of the Death Sauces since 1989
Origin: United States
Hot Sauce Ingredients: Red and Orange Habaneros, Vinegar, Fresh Cayenne, Smashed Garlic, Chipotle, Pepper Extract, Lime Juice, Cilantro, Fresh Herbs and Spices.
Check out more products from: Blair's Hot Sauces and Snacks