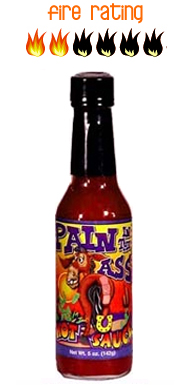 Ass Kickin' Pain in the Ass Hot Sauce is that perfect gift fpr anyone who is a PAIN IN YOUR ASS! Whether it's a husband, wife, boss, sister, brother, aunt, uncle, neighbour, friend, you name it . . you can subtly tell them by handing them one of these bottles!
Enjoy the laughter! Enjoy the sauce.
Scoville Heat Units (SHU): unknown
Hot Sauce Brand: Ass Kickin' Hot Sauces – SouthWest Specialty Foods Inc 
Origin: The Arizona Desert, United States
Hot Sauce Ingredients: Water, habanero pepper, vinegar, garlic, salt, spices and xanthan gum.
Check out more products from: Ass Kickin' Hot Sauces – SouthWest Specialty Foods Inc