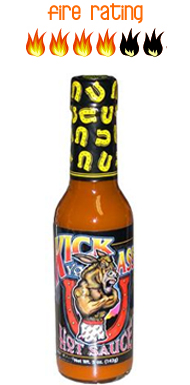 Ass Kickin' Kick Yo Ass Hot Sauce is a delicious hot blend of Red Savina Peppers and ONE million Scoville unit capsicum extract.  This Hot Sauce will KICK YO ASS.
Scoville Heat Units (SHU): unknown
Hot Sauce Brand: Ass Kickin' Hot Sauces – SouthWest Specialty Foods Inc 
Origin: The Arizona Desert, United States
Hot Sauce Ingredients: Water, Red Savina Habanero Pepper, Vinegar, Capsicum Extract, Oleoresin Sauteed Garlic, Oleoresin Sauteed Onion, Xanthan Gum, and Spices.
Check out more products from: Ass Kickin' Hot Sauces – SouthWest Specialty Foods Inc