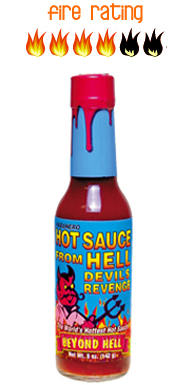 Ass Kickin' Habanero Hot Sauce from Hell Devils Revenge is from the 'From Hell' range of Ass Kickin' products.
Southwest Specialty Foods created this sauce to enter the XXXTra hot category. It has a thinner consistency and is the the hottest of the Louisiana style sauces. The Ass Kickin' family have combined Capsicum extract with habanero peppers to produce one of the worlds hottest hot sauces. It's time to repent chili heads!
Scoville Heat Units (SHU): unknown
Hot Sauce Brand: Ass Kickin' Hot Sauces – SouthWest Specialty Foods Inc 
Origin: The Arizona Desert, United States
Hot Sauce Ingredients: Water, Habanero Pepper, Vinegar, Capsicum Extract, Carrots, Salt, Xanthan Gum, Garlic, and Spices.
Check out more products from: Ass Kickin' Hot Sauces – SouthWest Specialty Foods Inc